Mmm...Soup...(Fall Tastes)
This week I started unpacking my winter clothes and dragging out the Halloween decorations. Fall is Lit-trally my favorite season. (I know you Parks & Rec fans are out there. You read it.) Every year I stretch it out for as long as I can and then wish it could have lasted a little bit longer as soon as it's over. To ensure that I get the most out of it, I fill the season with a long list of traditions that capture every aspect of it, covering each of my senses. The next few posts will feature a number of these traditions.
Lets kickoff this sensory road trip with tastes! So far this season I've been indulging in pumpkin pie concretes, pumpkin spice lattes and apples in pretty much everything. There are dozens of foods that I consider quintessential Fall staples but one stands out above all the rest. On a crisp Fall night there is really nothing like hot bowl of soup. I've been mixing up one batch after the other. Here are some of my Fall favorites: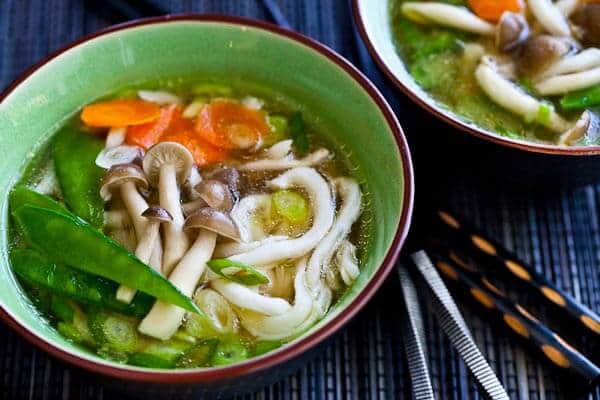 1. 15 Minute Udon Noodle Soup by: Steamy Kitchen. Super quick and super satisfying! I always beef mine up with some slices of tofu and a fried egg floating on top.
 2. Curried Cauliflower and Apple Soup from Epicurious. This one didn't last long enough in my house for me to snap a pic. There isn't a photo on Epicurious either but its awe inspiring qualities lie in its taste anyway. Everyone was starting to eat it out of the pan. I served it with grilled apple and smoked cheddar sandwiches. NOM!
3. Stuffed Pepper Soup by: Leslie Fehling. Leslie's recipe was the closest I could find to my Mom's recipe. We usually toss in any extra veg we have hanging out in the fridge/freezer. This could be anything from frozen peas & corn to left over roasted carrots or potatoes making it an excellent "fridge cleaning" supper option.
4. Vegetarian Split Pea Soup by: Martha Stewarts Every Day Foods. Serve with warm buttered crusty bread to mop up your drool.
5. Vegetarian Chili by: Me. This is a recipe I fall back on a lot. I usually have the ingredients in the house already and it requires minimal effort.
Ingredients:
2 T Vegetable Oil
1 Medium Onion Diced
2 Carrots Sliced into Rounds
1 Bell Pepper Diced
1 Package Morning Star Crumbles
2 Cloves Garlic
1 Can Black Beans
1 Can Small Red Beans
1 Can Rotel Tomatoes
1 Can Tomato Sauce
2 Cups Water
2 T Chili Powder
1 T Cumin
Red Pepper Flake (Optional)
Salt and Pepper
Heat oil in a large stock pot over medium heat. Add onions and carrot and saute until onion is translucent. Add remaining ingredients and simmer over low heat for at least an hour.
You'll note that none of the cans have sizes mentioned. This is because I always just use what I have on hand. This recipe is really flexible. If you like your chili mild swap out the Rotel tomatoes for a can of diced tomatoes with their juice. If it's too thick add more tomato sauce. Too thin? Add more water. I always serve it with lots of add in options like shredded cheese, sour cream, green onions and oyster crackers.
Do you have any Fall flavor staples?